Think mobile is just an add-on to your benefits platform? Think again. In the era of consumer engagement, you should consider mobile-first as your go-to strategy!
A recent article in the Wall Street Journal asks, "Does the future of America's labor movement run through our smartphones?" The answer is yes! Unions, employers, and benefits administrators all want to deliver the most value to members as efficiently and effectively as possible. Beneficiaries certainly want easy-to-use, real-time, self-service solutions to answer questions and help them navigate health and wealth benefits. An integrated mobile app gives you control and provides everyone with a single platform to reduce costs and improve outcomes.
Save money. Improve efficiency. You would think these reasons would be incentives enough to get people excited about their benefits. Unfortunately, they are not enough. Today's consumer values safety, convenience, choice, outcomes, and service, and they prefer to do it digitally. In fact, "84% of members agree that if a transaction can be done digitally, that's how they want to do it." 1
The adoption of mobile is well established across the U.S.
Organizations considering a mobile-first strategy often wonder whether their members who don't own a smartphone might get left behind. Unlikely. The use of smartphones is ubiquitous. Consider that:
And it's not just millennials: research shows that older adults are also adopting mobile. AARP reported that in 2019, twice as many adults over 50 purchased a smartphone rather than a desktop or laptop computer. With smartphones out-pacing laptop and desktop computers in usage and adoption, benefits administrators, and human resources professionals can rest easy knowing that their people will have a solid foundation for delivering value.
Mobile-First to the Rescue
Meet Joe. Joe loves to cycle. Early one morning, Joe threw on his jersey, tucked his phone in his back pocket, and headed out the door for a quick bike ride. He was five miles from home when his front tire blew out. Within seconds, Joe careened onto the gravel and into the ditch alongside the road. A passing motorist happened upon Joe and immediately called the paramedics. Joe was taken to the emergency room, unresponsive.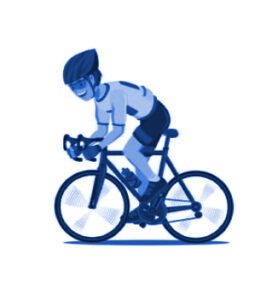 Sheila, the medical technician on staff assigned to Joe, worried about treating an unidentified, unconscious patient. She heard Joe's phone buzzing from his pocket and immediately breathed a sigh of relief. Unconscious patients represent a unique challenge. Unknown allergies and medical history can have dire implications. Lucky for Sheila, someone was calling Joe at just the right time.
Fortunately for Joe, his benefits administrator decided to take control of members' data and proactively manage benefits with a mobile app. The app synchronizes with all benefit providers, exchanges data, and ensures real-time communications across benefit providers. That meant Joe's medical claims, electronic medical records, labs, pharmacy, and other critical information was available to Sheila once she checked his smartphone.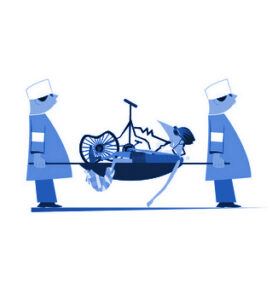 Sheila learns, through a quick verification process, that Joe is a diabetic and has a latex allergy. Sheila passes this critical information to Joe's physicians so they can better manage his care. 
Joe made a swift recovery and continues his morning rides. But should he find himself down in the ditch, he can rest assured his app will help him get back in the saddle!
The convenience, availability, acceptability, and security of mobile make it the optimal technology to engage, manage, support, and care for members.
Mobile improves communication
The ubiquitous nature of mobile makes it possible to dialogue with members whenever they need assistance, from wherever they are, in their preferred language. Blessed with personalization technologies, a mobile-first strategy allows you to "push" context-relevant information to members in real-time.
Web portals and mobile websites, although useful, lack important capabilities, or are inconvenient to use at a point-of-care or other situation that drives value. Consider a visit to your local pediatrician. You will have questions about your copayments and coinsurance. The doctor will want your insurance information and medical history. A well-designed app will have considered these use cases and provide you with a tool that smooths and simplifies all types of communication.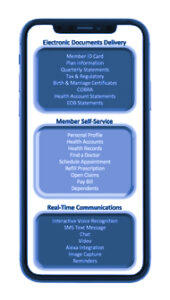 Omnichannel communication (SMS, Email, Paper)

Live customer support messaging

AI chatbots

Notification and reminder settings

Language translation services

Context relevant information

Review and update information

Contactless
Mobile improves decision-making 
Intelligent benefits administration platforms manage events, transactions, and data that happen adjacent to the benefits lifecycle. Eligibility verification and claim status updates are common events that can be utilized to drive value. Credit card companies use temporal reasoning when assessing transactions. You cannot buy a carton of milk in New York and fill up at a gas station in Los Angeles five minutes later without triggering an alert. Mobile apps can employ the same tactics and give you and your members incredibly granular and detailed instructions based on sequences of events, dates, times, geographies, and a host of other factors. These inference algorithms have become so powerful that In a recent demonstration researchers at the University of Pittsburgh demonstrated that a simple algorithm can measure drunkenness with 93% accuracy solely using accelerometer data. 2
Mobile keeps people safe
Business continuity matters, With COVID-19 "stay at home" orders will likely continue to keep benefits administrators – and the members they manage – out of their work environments and into remote settings. Mobile administration is especially valuable for labor benefit funds who support members designated as "essential workers" required to keep businesses and services running during the pandemic. Mobile can efficiently organize the scrambling for convenient and secure methods to quickly exchange health and wealth benefits information with workers during times of crisis.
Safety and security extend beyond worksite safety and personal health and make sure your data stays private. Mobile provides an ideal platform for personal authentication for critical transactions with face and voice recognition, fingerprint, two-factor, and screen and device lock features. A smartly designed app protects both administrators and members from security breaches, and fraudulent activities and charges.
Mobile reduces costs
Enrollments, member management, and compliance with Federal and State requirements (such as 1099s, 1095s, and COBRA), requires a tremendous amount of time and money. Beyond that recordkeeping, audit, and customer service add expense that may no longer be necessary. Mobile simplifies and saves. Through digital data collection and e-document delivery, mobile minimizes the costs associated with scanning, printing, and mailing benefits information including:
Member ID cards

Benefit plan information

Quarterly benefit statements

Birth and marriage certificates

Health account statements

EOB statements

Tax & Regulatory documents

COBRA information
Mobile gives you control
Your vendors are too focused on getting their app into member's hands instead of driving value for you and your members. Members often end up with tens or hundreds of apps that rarely get used and provide little value. Centralizing the member benefits experience gives your members a single source of truth on a platform that you control. The ideal app is vendor agnostic. Data can be imported from any vendor at any time, making it easy for you to change vendors. The single repository approach also ensures that you have the most up-to-date information about a member and can easily contact them whenever and wherever you want.
Get started today using a mobile-first benefits administration strategy
Whether managing, delivering, or consuming health and wealth benefits, utilizing mobile technology is the smartest of "smart tech" strategies. Speed up the movement of information, increase engagement and compliance, and lower the total cost of doing business. The best strategy is mobile-first!